Alameda County Vector Control Services
Alameda County Vector Control Services District is a Division of the Alameda County Environmental Health Department, which is a part of the Alameda County Health Care Services Agency.
Our Mission
The mission of the Vector Control Services District is to prevent the spread of vector-borne diseases, injury, and discomfort to the residents of the District by controlling insects, rodents, and other vectors and eliminating causal environmental conditions through education, and integrated pest management practices.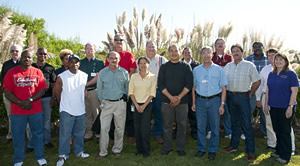 Alameda County Vector Control Team
What is a Vector?
Vectors are animals or insects that do not cause disease but spread infections by transmitting pathogens from one host to another. Vectors are, including but not restricted to, fleas (plague), flies (Salmonella), ticks (Lyme disease), mites, rodents (Hantavirus Pulmonary Syndrome), and bats (Rabies).
The Alameda Country Vector Control Services District was established in June 1984 as a County Service Area (CSA-VC 1984-1) by the Board of Supervisors (BOS) to serve the public by providing vector control services. It is funded primarily by a benefit assessment charge onto each real property in the district. Initially, Dublin, Emeryville and Fremont were included in the District. The City of Berkeley had an existing vector control program when CSA was formed in 1984, with BOS' approval; the CSA established a service contract with
---
the City of Berkeley to have the City provide its own vector control services to the residents of Berkeley each year. In 1992, at the request of the Dublin City Council, which voted to join the District and Dublin was annexed by the BOS. In 2009, both Emeryville and Fremont were annexed to the District by the BOS after a successful Proposition 218 mail-out balloting process. Currently, the Alameda County Vector Control Services District serves all of the Cities in Alameda County, as well as the unincorporated area.
---
In the City of Berkeley, their Vector Control Services Section is under the Division of Environmental Health, and part of the Berkeley Health Services Department. In 1987, the City of Oakland recognized a severe rat problem emanating from the sanitary sewers which exceed the CSA's staff capabilities to control the problem. Subsequently, Oakland voters approved a supplemental assessment, which was first levied in 1988-89, and provided additional funding to control rodents in the sanitary sewers of Oakland.