Soldier Fly (Hermetia illucens)
This fly is commonly found in compost bins. Black solider fly larvae are commercially available for decomposing garden waste and other vegetation. Larvae play an important role in composting. The adult Soldier flies are quite large, and can be a nuisance in composting or recycling sites.
Stable Fly (Stomoxys calcitrans)
This robust black fly has a painful bite. The larvae feed in damp, highly organic materials such as moist hay and droppings. Occasionally this fly can become a problem in dairy farms and other rural settings with livestock.
Small Dung Fly(Sphaeroceridae)
This fly has similar habits to the Vinegar Fly. The larva feeds in organic material usually due to plumbing and sewage leaks as well as decaying vegetation and rotten fruits.
Black Valley Gnat(Leptoconops torrens)
This is a very small "no-see-um" gnat that has a very painful bite. It breeds in a specific soil type found in and around the Pleasanton area of the county. Due to the development of new housing in this area, this fly is rarely encountered.
Fungus Gnat
The non-biting fungus gnat breeds in over-watered plant soils and may become a nuisance. Replacing potted soil or drying out soil will help reduce numbers.
Cluster Fly (Pollenia rudis) & Face Fly (Musca autumalis) 
Some flies will overwinter in large numbers in homes; usually in attic or wall voids. Many flies may enter the living area and cause a considerable nuisance. The Cluster Fly (Pollenia rudis) which feeds on earthworms will utilize homes to overwinter. The Face Fly (Musca autumalis) which is similar in appearance to the House fly will also overwinter within homes. Pesticide applications can be used to kill existing flies for temporary control. Sealing all exterior cracks and openings is highly recommended for preventing future infestations.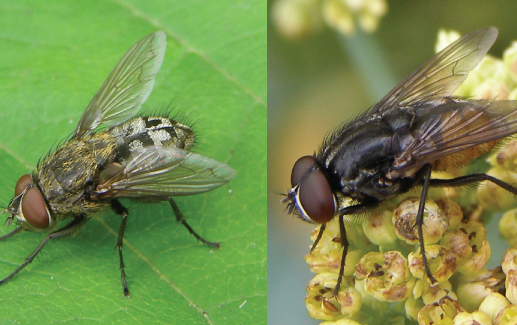 If you have difficulties finding the larval food source or identifying a fly, call our District (510-567-6800) or submit an online request for service. We will inspect your property, identify the fly and make recommendations for the elimination of the larval food source.
Common Flies in Alameda County
Download the complete Brochure here